Want to be a lasting brand? Follow these 6 scalable D2C strategies.
You've launched a product and seen initial success as a digital native brand, but now the pressure is on to scale your business into something that can stand the test of time. Read on for advice on competing in today's crowded consumer goods market, then dive into the full version of The D2C Brand's Guide to Scaling Your Supply Chain (with tips from companies like Everlane, Rothy's, and Away).
Investors and companies both note that funding for direct brands is getting more elusive. To scale gracefully and stay ahead of other brands in your space, consider the following areas as you plan for your company's future.
#1 – Keep costs under control
Build next year's budget based on your key growth areas while eliminating waste in those that won't drive new business. Whether you want to expand into new markets, launch additional product lines, or start selling in new distribution channels, your budget should reflect those goals.
Consider rebalancing your spend to deemphasize some of the initial overhead and marketing it took to launch your brand, opting instead to invest in technology and optimization. While you'll have larger spend overall, you should be more focused on ROI and producing better margins.
If you're looking to expand into wholesale, expect your margins to drop (direct brands average margins between 55-65% compared to 30-50% for wholesale). You can offset this loss by pinpointing visibility gaps, refining your product specs to improve production costs, and renegotiate supplier agreements for economies of scale.
#2 – Optimize your time
Try to quantify how many hours per week you spend wrangling suppliers, following up on production milestones, tracking down shipments, and searching for lost orders. If you're still using spreadsheets, it's time for a change— research by McKinsey says that 80 to 90% of supply planning tasks can be automated.
There are several flexible, affordable platforms available today to help you streamline your supply chain. Investing in one now will give you greater supply chain visibility, putting all of your sourcing and production data in a single, collaborative place and saving you hours a day of tedious, manual follow-up with suppliers.
#3 – Reduce lead times and inventory costs
If you're constantly worried about whether your inbound supply will arrive in time to fill customer demand, identify where delays are happening and focus on those first. Know the cost of warehousing inventory, your turnover rate, obsolescence costs, and your carrying rate—they all have an impact on scalability.
To really understand this data and fix visibility gaps, you'll need real-time data on each milestone of the production process, down to each part and supplier. The more you can see and control the location of each product in your supply chain, the less inventory you'll have to hold to offset supply chain risk.
#4 – Ensure high-quality, consistent products
Quality and fulfillment issues can stagnate an otherwise healthy brand. To prepare for rapid growth, gather data on each of your current suppliers—consistency across batches and orders, the frequency of damaged or broken goods, their overall fulfillment rate. From this, decide whether to continue with them or find a new supply base.
In the future, each supplier should agree to your criteria on items like product specs, production capabilities, regulatory requirements, and service levels. This clarity will make it easier to enforce quality standards and give you greater confidence in your products.
#5 – Find suppliers and partners you can count on
Your suppliers should be dependable, responsive, and able to meet SLAs. As you plan for growth, review supplier performance and agree on concrete metrics going forward. If you aren't sure how to find trustworthy new suppliers, try a supplier marketplace where each partner is already vetted for production capabilities, environmentally-friendly practices, and more.
For current suppliers, invest in technology that automates and centralizes supplier management like the hugely successful shaving brand Harry's does. When assessing vendors, look for a platform that allows you to store and search production documents like bills of material, track purchase orders, and alerts you when delays are expected. You should easily be able to drill down into each supplier's performance and identify the weakest relationships.
Logistics providers can also improve your scalability. Partnering with freight forwarders, inventory solutions, and shared warehouses and DCs is a great way to create a more integrated, transparent supply chain without having to invest in your own infrastructure. Not sure where to start looking? Here are 125 examples from CB Insights.
#6 – Pass value on to customers
Making these changes isn't just about improving operations. A robust, scalable supply chain has a positive impact on the entire customer experience, leading to higher customer lifetime values and greater longevity for your brand.
At Anvyl we built a platform that can help you scale your supply chain faster and gain a competitive edge through automation and visibility. Learn more about us here, and don't forget to read the full version of our guide.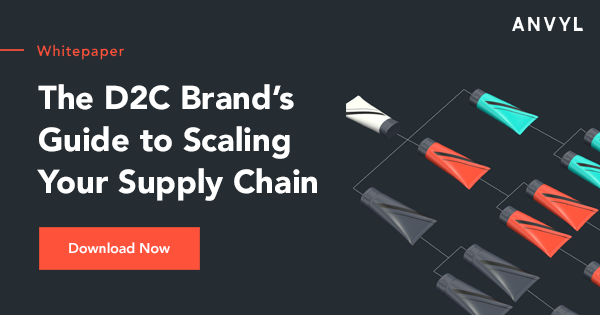 Take Control of Your Production Process
Anvyl provides a central source of truth for all your order information, and helps you manage your supplier relationships. All in one simple platform.